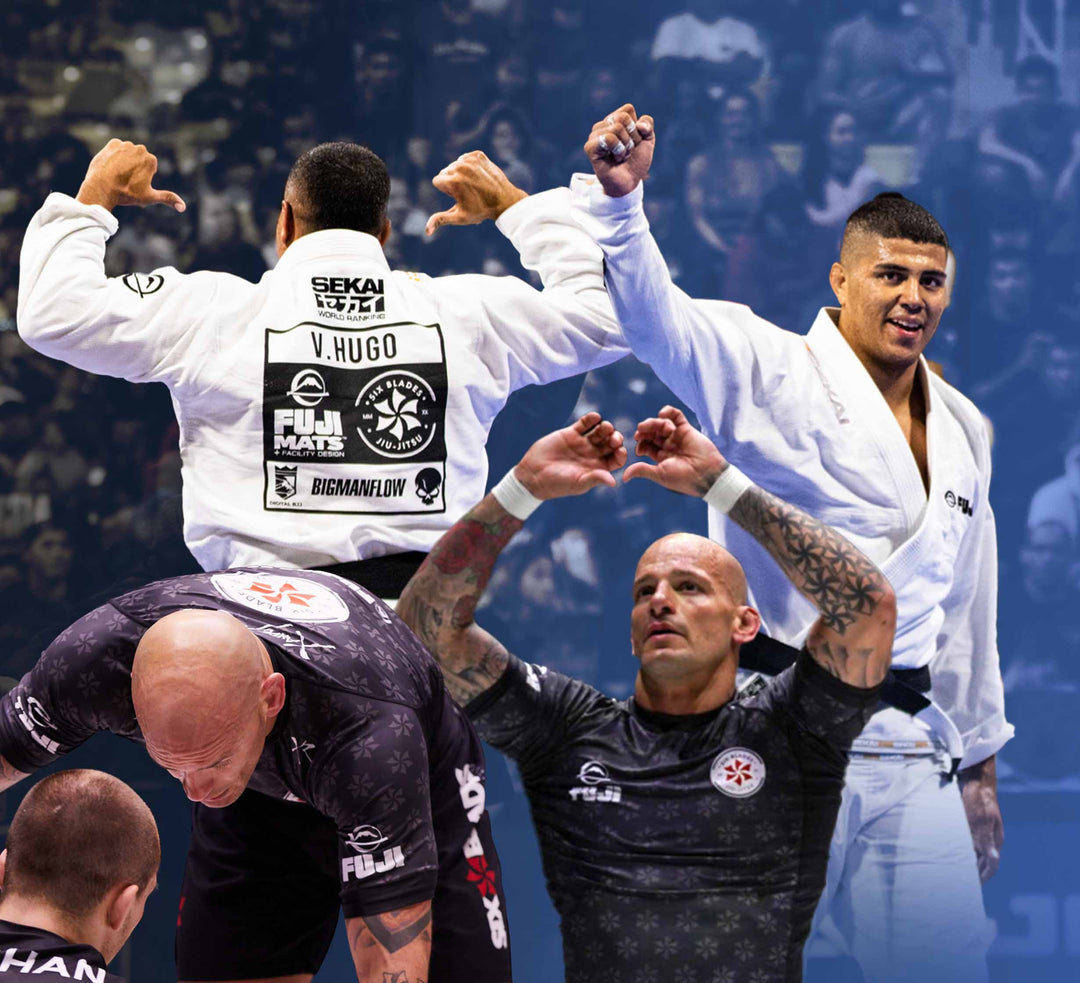 Xande & Victor Super Seminar October 29th - Hudson Wi
Regular price
$150.00
Sale price
$75.00
Save $75.00
/
---
FUJI BJJ Is Proud to Sponsor the Xande & Victor Super Seminar! FUJI BJJ will be covering $75 of each participate who registers before Friday October 27th. 
Brazilian Jiu Jitsu Champions Xande Ribeiro and Victor Hugo are coming to Wisconsin to share their unparalleled expertise and passion for Jiu Jitsu. Join us for an extraordinary seminar that promises to be an unforgettable experience for practitioners of all levels.

🥋 About Xande Ribeiro:
Xande Ribeiro is a legendary figure in the world of Jiu Jitsu, known for his remarkable technical prowess and numerous world titles. With a career spanning decades, Xande has accumulated a wealth of knowledge and experience that he's eager to pass on. His teaching style is both approachable and comprehensive, making complex techniques accessible to all attendees.

🥋 About Victor Hugo:
Victor Hugo, a rising star in the Jiu Jitsu community, has already established himself as one of the sport's most dynamic and innovative competitors. His unique approach to grappling and dedication to pushing the boundaries of Jiu Jitsu make him a captivating instructor. Victor's youthful energy and modern techniques will inspire attendees to explore new horizons in their Jiu Jitsu journey.

Seminar Highlights:

✨ In-Depth Technique Breakdowns: Xande and Victor will break down fundamental and advanced Jiu Jitsu techniques, providing insights into their applications and variations.
✨ Strategy and Game Planning: Learn how to create effective game plans, adapt to different opponents, and improve your competitive edge.
✨ Sparring and Drilling Sessions: Attendees will have the opportunity to practice alongside Xande and Victor, receiving personalized feedback and guidance.
✨ Q&A Sessions: Engage directly with the instructors, ask questions, and gain valuable insights from their wealth of experience.

Whether you're a beginner looking to lay a solid foundation or an advanced practitioner aiming to refine your skills, this seminar promises a dynamic and inclusive learning environment. Join us for a weekend of camaraderie, inspiration, and transformational Jiu Jitsu knowledge.

Don't miss this unique opportunity to train with two living legends of the sport! Reserve your spot today and unlock the secrets to mastering the art of Brazilian Jiu Jitsu with Xande Ribeiro and Victor Hugo.
Location:
Alliance Jiujitsu St. Croix
2801 Harvey Street
Hudson Wi 54016
Times: Subject to change
Instruction & Training: 10:30am - 12:30pm
Lunch: 12:30-2pm
Instruction & Training: 2pm - 4pm

Xande Ribeiro Accomplishments:

1st Place IBJJF World Championship (2004 / 2005 / 2006** / 2008** / 2015)
1st Place IBJJF World Championship No-Gi (2012** )
1st Place ADCC World Championship (2007 / 2009)
1st Place IBJJF Pan Championship (2001* / 2002 / 2005 / 2006)
2nd Place IBJJF World Championship (2005 / 2012 / 2012)
2nd Place ADCC World Championship (2009*)
3rd Place ADCC World Championship(2005 / 2017)
3rd Place IBJJF World Championship (2013)
Victor Hugo Accomplishments: 

1st Place IBJJF World Championship (2021 / 2022 / 2023**)
1st Place IBJJF World Championship NOGI (2019*)
1st Place IBJJF Pan Championship (2021)
1st Place CBJJ Brazilian Nationals (2023**)
1st Place IBJJF Grand Prix (2021)
1st Place 3CG Kumite 3 Challenge (2020)
1st Place 3CG Kumite 6 Challenge (2020)
2nd Place IBJJF World Championship NOGI (2021 / 2022)